Product Details
Chemical Name : (3R,6E)-7-[4-(4-Fluorophenyl)-6-(1-methylethyl)-2-[methyl(methylsulfonyl) amino]-5-pyrimidinyl]-3-hydroxy-5-oxo-6-heptenoic acid calcium salt ;
Molecular Formula : C22H25FN3O6S . 1/2 Ca
Molecular Weight : 478.51 (M . 1/2Ca)
Batch Numbar :
CAS Number : 1422619-13-3 (acid)
Solubility : MEOH
Storage : 2-8 °C
Purity by HPLC : NLT 95%
Keywords : Rosuvastatin EP Impurity C (Calcium Salt),Rosuvastatin 5-Oxo Calcium ,5-Oxo-Rosuvastatin Calcium,3-Hydroxy-5-Keto Rosuvastatin Calcium
Product Structure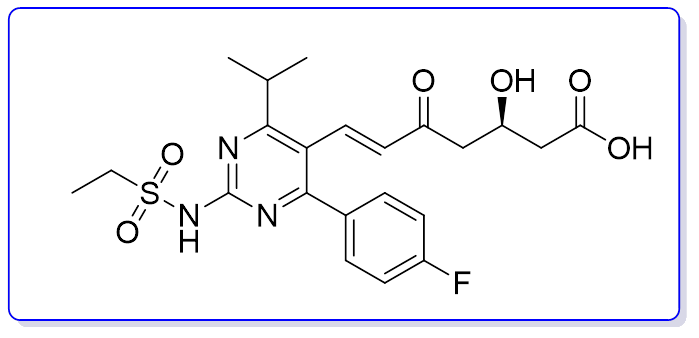 General Description
Documents - COA, HNMR, 13CNMR, MASS, HPLC (by pharmacopoeia method with RT RRT results), IR and TGA will be provide with products. Shipment by Fast track courier services. Payment Term - 30 days.
---